The United States Securities and Exchange Commission (SEC) announced during the weekend that it will not be making decisions on Bitcoin exchange-traded fund (ETF) applications until the end of the year. Market analysts suggest that if the SEC approves at least one of the four applications under consideration, bitcoin will break another historical record. This could lead to a cryptocurrency market crash.
The Securities Commission's positive decision on the ETFs comes as the investment funds plan to trade bitcoin futures on the Chicago Mercantile Exchange CME.
If the SEC approves BTC funds, a huge number of people in the United States will have unrestricted and easy access to digital coin, leading to a tangible inflow of cash into the crypto industry, bullish market trends, and new historical records for bitcoin.
According to preliminary scenarios, the value of Bitcoin will rise permanently in anticipation of positive news. Against this backdrop, many crypto investors will rush to lock in profits, causing the market to collapse.
According to the latest media reports, recently the SEC has shown a much more positive attitude towards BTC funds. This means that they could give their approval in the coming days. This will lead to the realization of all analysts' predictions on the day the first Bitcoin-ETF starts trading in the United States.
By the way, there have been similar situations in the history of digital assets before. In 2017, for example, amid expectations of the Bitcoin futures implementation, its value soared by almost 2,500% and then plummeted by more than 80%. During Coinbase listing on the stock exchange in 2021, bitcoin first rose 822% and then collapsed 53%.
As for Bitcoin, it is actively declining and is trading near the $55,400 level, losing around 4%.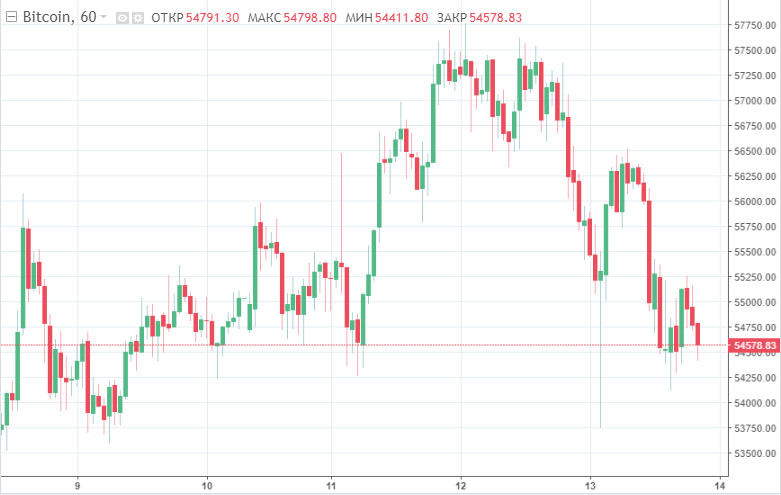 Meanwhile, Ethereum fell 1.19% to $3467.02, while Binance Coin soared 8.61% to $442.97.
BTC is down 4% in the last 24 hours and makes coincide near the $55,400 level after a failed attempt to break the level of $58,000. During this time, some altcoins show maximum growth, and others decline permanently. Crypto analysts suggest that this situation confirms a profit taking process from the Bitcoin rally, rather than a major reversal.
It is worth noting that Shiba Inu is currently among the top 20 digital assets by capitalization. At the same time, the Dogecoin is placing it among the top 10 coins.