Take advantage of the cutting-edge ECN technology in your favorite trading platform.
What is ECN?
Electronic Communication Network (ECN) is an electronic marketplace that connects traders directly to interbank liquidity providers, eliminating the role of a third party in the execution of orders. Having direct access to the market, traders can take advantage of greater profit opportunities as well as faster trade execution.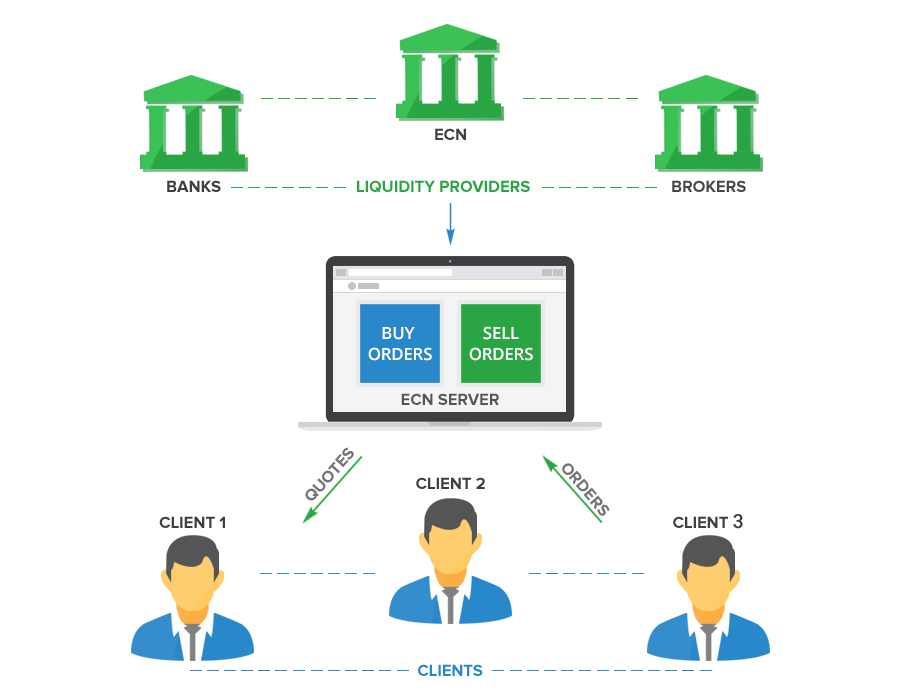 Advantages of ECN Broker
The ECN brokerage industry is relatively new with less competition. It is increasing in popularity with a rising number of traders realizing its benefits. There are quite a lot of advantages that ECN offers. The following are just some:
Tight Spreads

Clients enjoy trade executions with tight spreads. This means that there are no limit or stop levels and traders can freely trade within the spread.

Instant Execution

ECN technology was developed to process trades instantly. Clients trade on live streaming, best executable prices with immediate confirmations.

No Requotes

ECN Brokers eliminate the need for intermediary desks, thus optimizing the trading process for a faster execution and quicker confirmation without requotes.

Direct Access

Traders deal directly with top liquidity providers such as world-class banks and financial institutions. This means clients have instant access to global liquidity.

Unrestricted Trading

The ECN brokerage model means that traders are free to run any strategy.

Automatic Order-Matching

ECN is a computerized system that automatically matches buy and sell orders, thus streamlining the trading process.
What is ForexMart's ECN Technology?
With ForexMart's ECN technology, traders can enjoy tight spreads, low commission, and efficient execution. We developed a system that instantly searches and matches orders in real time. It automatically executes orders that fit your conditions, offering you the best trading experience.

Boost your profit opportunities with ForexMart's ECN technology and enjoy the benefits today.