EUR/USD
Higher timeframes
The upward correction brought the pair back to the zone of recent consolidation, which was formed during the fulfillment of the monthly target for the breakdown of the Ichimoku cloud around its final line (1.0539 level of 100% target completion). Confirmation and continuation of the correction will send bullish interests to eliminate the daily death cross and test the weekly short-term trend—today these resistances are located at 1.0642 – 1.0712 – 1.0767. Deceleration and return of uncertainty moods will form the continuation of consolidation and delay the development of the situation. If the correction is completed, attention will be directed to a more successful breakdown of the support at 1.0339 (2017 bottom).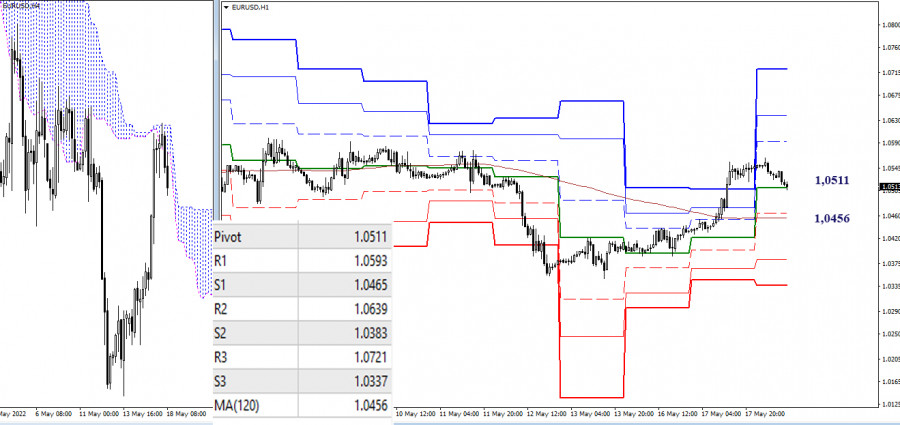 H4 - H1
The main advantage on the lower timeframes has shifted to the bulls. After testing the Ichimoku cloud on H4 (1.0562), there has been a corrective decline. If bulls now manage to keep the upper hand and keep the key levels located at 1.0511 (central pivot point of the day) and 1.0456 (weekly long-term trend) as supports today, then we can expect a continuation of the rise and strengthening of the bullish sentiments. At the same time, the references within the day will be the resistance of the classic pivot points 1.0593 – 1.0639 – 1.0721, and the breakdown of the Ichimoku cloud on H4 will form a new upward target, which will also serve as a guide.
***
GBP/USD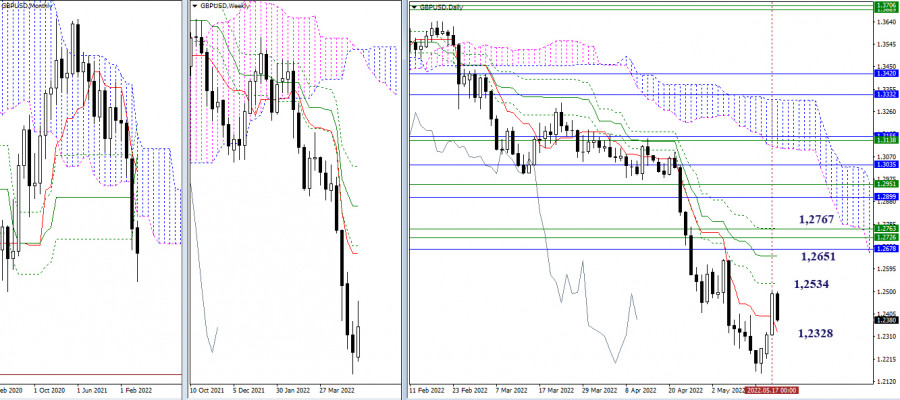 Higher timeframes
Yesterday, bulls quite actively and effectively continued the corrective rise, they did not even notice a daily short-term trend on the way. Today this level can be useful as a support (1.2328). The continuation of the rise and the breakdown of the daily resistance of 1.2534 will focus the attention of the bulls in the area of 1.2651 – 1.2767, where quite a lot of levels have accumulated from different timeframes.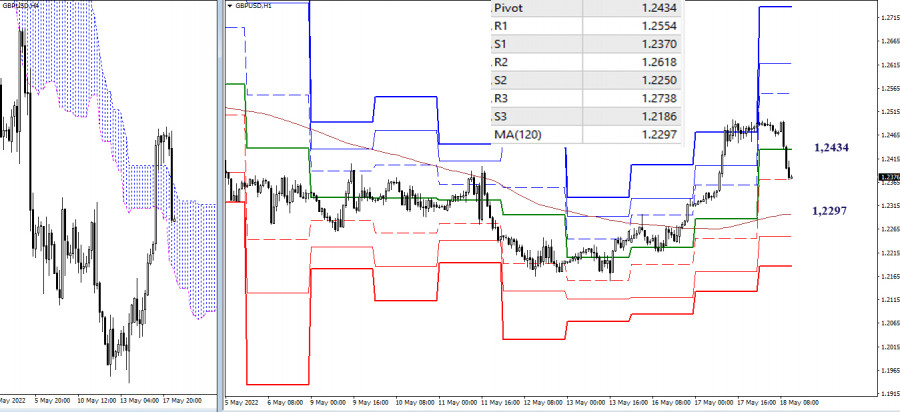 H4 - H1
As of this writing, we are seeing the development of a decline in the lower timeframes. The central pivot point of the day (1.2434) has already gone over to the downside. Now all attention is directed to the weekly long-term support (1.2297). Its breakdown will again change the balance of power. The nearest support on this path is 1.2370 (S1), which is being tested right now. In the current situation, it is important for bulls to hold positions and maintain the current main advantage. This will maintain the targets at 1.2554 – 1.2618 – 1.2738 (classic pivot points). Further upward reference points within the day, in case of continuation of the rise, is the breakdown of the H4 cloud.
***
In the technical analysis of the situation, the following are used:
higher timeframes – Ichimoku Kinko Hyo (9.26.52) + Fibo Kijun levels
H1 - Pivot Points (classic) + Moving Average 120 (weekly long-term trend)